Thoughts from a Purple Chair
March 2021 Newsletter | By: Ian Sachs, CFP®
View on LinkedIn
I have spent quite a bit of time at the NICU this past month, sitting in a hospital-grade purple chair with my newborns. The twins surprised my wife and I by arriving 6 weeks early. They are doing well and this past weekend, we were able to bring them home after 33 days. We can hardly complain. After years of trying to start a family, Alexa and I are blessed with a healthy and beautiful baby boy and girl.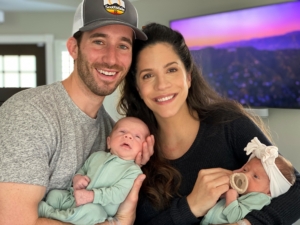 Becoming a Dad with a family to support has been life changing, and what I do professionally has become more meaningful.
In its most traditional sense, we don't carry life insurance for ourselves… What do we have to gain from it if we were to die? Why make premium payments for a plan that (excluding policies with cash value and living benefits) will not actually benefit us? On the subject, why should we also bother updating our estate and business succession plans on a regular basis? Our families can figure out what happens with our "stuff" and can make assumptions as to what our final wishes might be. Our businesses and employers can wing it until someone steps up to take over the reins.
Of course, these questions and answers are rhetorical, but I hear them all the time from good people who do not realize the implications of what they are at first saying when we sit down to put plans in place. I hear things like, "I am 'self-insured'," "my business partner will know what to do," "my spouse will figure it out," or "my employer provides benefits for me." These kinds of answers are not a plan. When most well-intentioned people realize this, they usually do something about it.
Though some of us at first might not think that we need life insurance, our spouses and children need us to have life insurance, our businesses need us to have life insurance, and a handful of other people in our lives will also experience some form of a financial setback if we do not protect the financial value of our lives with insurance. Every human being has a real financial value. There are of course extenuating circumstances that may prevent someone from obtaining life insurance, but financial losses can still be minimized that much more by proper estate and succession planning.
Our lives should be insured so that our families, our businesses, and the families that depend upon our businesses will experience minimal financial loss if you or I were to die prematurely. Estate planning should leave our survivors with clear direction. And if we are fortunate enough to make it to an old age, our insurance will evolve into a legacy plan.
If you care about those around you, it's part of the cost and time that comes with relationships. We all need life insurance (at least in a majority of scenarios) and the proper plans in place. Spouses, business partners, key-employees, charities, children, parents, and grandparents – even financial institutions – all count on us to insure ourselves for their own protection. Make sure your current plan is evaluated and up to date. If it's not, we can help.