If you need a paycheck, you need disability insurance. There are many components to financial security, but an individual's ability to work and earn an income is what makes everything else possible. People insure their homes, cars, and personal property, yet they often fail to consider insuring the one thing that makes all of it possible – their income.
How solid is your foundation? When someone is too sick or hurt to work, the bills don't stop. Plus, there may be additional expenses for medical treatment or assistance. Many believe the government will support them, but the average amount of time it takes to collect Social Security disability benefits, if you qualify, is over a year. Employer policies are usually taxable, leaving less income to go around. Are you confident your family would make ends meet?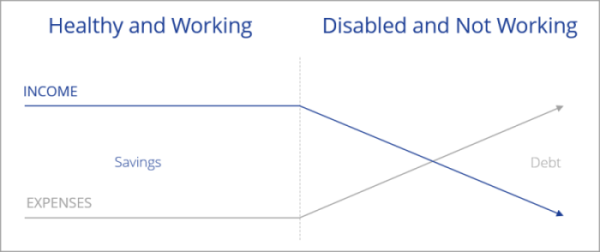 Protect dignity and grace. When most people think of long-term care, they think of nursing homes, but that's simply not accurate. If you can no longer care for yourself for an extended period of time you will need long-term care services. For an average person, there is a 70 percent chance that will happen. To avoid the immense financial burden that long-term care could cause, there are several policy options available that can be funded without impacting your current household budget.
Prepare for financial and emotional impact. With increased life expectancies, the probability of needing assisted care services is higher than ever before and so is the cost. A private room in a nursing home today runs about $85,000 per year and is even higher in many metro areas. Without proper planning, the impact on a family can be even greater. Consider the following potential solutions:
While it may seem like there are many programs available, Medicare only covers skilled care after hospitalization. Medicaid requires impoverishment.
Will your spouse be physically able to assist you with daily living activities, such as moving from bed to chair, bathing, and dressing? Are your children able to provide the daily support you may need? There may be a large negative impact with this strategy, both emotionally and financially.
Create a Strategy with Long-Term Care Insurance
With proper planning, you can take control of your future. Long-term care is not a 'one-size-fits-all', so it's important to evaluate your choices and find the option that suites the needs of you and your loved ones.